The Durban FilmMart (DFM) and the National Film and Video Foundation (NFVF) are pleased to announce their collaboration in hosting the CoProduction Corner at DFM 2023, taking place in person from July 21 to 24 in Durban.
The CoProduction Corner will offer a series of informative sessions and networking opportunities designed to connect filmmakers seeking co-production ventures. This specialised programme builds upon the successful initiatives undertaken to showcase independent cinema and create tangible possibilities for collaboration and coproduction. By bringing together governmental film bodies, filmmakers and industry stakeholders, these discussions will delve into the extensive benefits, available resources and operational mechanisms that exist for filmmakers in pursuit of co-production possibilities.
"DFM plays a vital role as a gateway to the continental film industry. Our ability to facilitate and foster opportunities for collaboration is key to the growth and sustainability of the industry. Through these collaborations, we can establish shared connections and cultivate an environment of learning and expansion within the world of cinema." says Magdalene Reddy, Director of the Durban FilmMart Institute (DFMI). 
The Coproduction Corner will feature two distinct sessions highlighting the initiatives and support available for collaboration in different regions: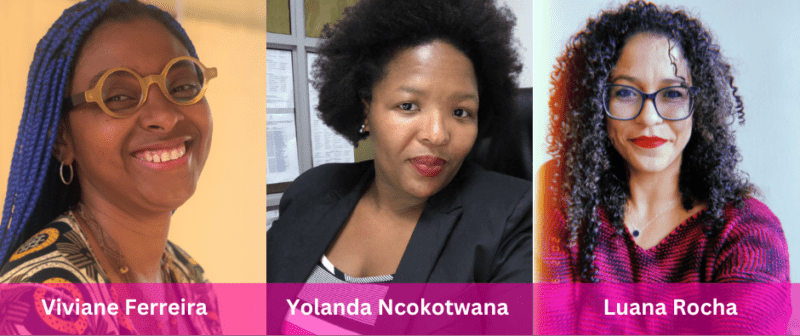 São Paulo, Brazil: The event will see the participation of Spcine, a state-owned company focused on the development of the film, TV, games and new media industries, backed by the São Paulo City Hall. Representatives from Spcine will discuss the various initiatives and financial incentives designed to promote collaboration, while providing a platform for engagement with the international film community. This session will be followed by a networking function, offering filmmakers from both regions an opportunity to connect and explore potential future collaborations.
Nigeria: The session will showcase the Nigerian Film Corporation, responsible for nurturing the Nigerian film industry. The corporation supports local talent through training, financial assistance and related endeavours, producing films for both domestic consumption and export. The session will highlight available initiatives for collaboration, including financial incentives and structural support, while fostering engagement with the global film community.
The Coproduction Corner sessions will take place on July 21 for São Paulo and July 23 for Nigeria, followed by dedicated networking sessions on respective dates to facilitate connections and further discussions. 
DFM 2023 promises to be a dynamic event, propelling the growth of the African film industry. Industry professionals and filmmakers are encouraged to attend the CoProduction Corner sessions to gain insights into the world of co-production and seize the opportunity to forge meaningful connections with international partners.
For more information about DFM 2023 and the Coproduction Corner sessions, please visit https://durbanfilmmart.co.za/ and  https://durbanfilmmart.co.za/dfm-2023-website-programme/ to explore the full programme of activities on offer at DFM.
For further questions: [email protected]  
The Durban FilmMart Institute, which organises DFM 2023, receives its primary funding from the Durban Film Office and the eThekwini Municipality. The success of the event is made possible through the generous support of various organisations and entities. These include DW Akademie, Ford Foundation, NEFTI, National Film and Video Foundation, Netflix, Amazon, Film and Publication Board, KwaZulu-Natal Film Commission, KZN Convention Bureau, Industrial Development Cooperation, International Emerging Film Talent Association, Sheer Publishing, French Institute in South Africa, Namibian Film Commission, Wesgro, CC&A, Eastern Cape Development Cooperation, Panavision, Africa No Filter and Trans-Saharan Artistic Mobility Fund.
Additionally, the event benefits from partnerships with esteemed organisations and festivals. These programme partners include the Durban International Film Festival, African Real Collective, Animation SA, Berlinale Talents, Cinemart, Digital Lab Africa, Documentary Filmmakers Association, DOK.fest München, Dok Leipzig, FIDA DOC, The Gotham, Guangzhou International Documentary Film Festival, Hot Docs-Blue Ice Docs Fund, International Documentary Association, International Documentary Festival Amsterdam, Independent Black Filmmakers Collective, Independent Producers Organisation, Locations Africa, Miradas Doc, Organisation Internationale de la Francophonie, Produire au Sud, Red Sea Fund, Sørfund, SWIFT, TikTok, The Whickers, Trace Studios, TRT Sinema and Writers Guild of South Africa.
About the Durban FilmMart Institute:
Durban FilmMart Institute is the business hub of the African film industry in a world where professionals and products are globally competitive and celebrated. The mission of the Durban FilmMart Institute is to provide appropriate and effective programmes and services to promote, support and facilitate investment in the African film industry.
About the National Film and Video Foundation: 
The National Film and Video Foundation is a statutory body mandated to spearhead the development of the South African film and television industry. Through funding, training and promotional initiatives, the NFVF actively supports and empowers South African filmmakers, driving the growth of the industry and promoting local content on both national and international platforms.