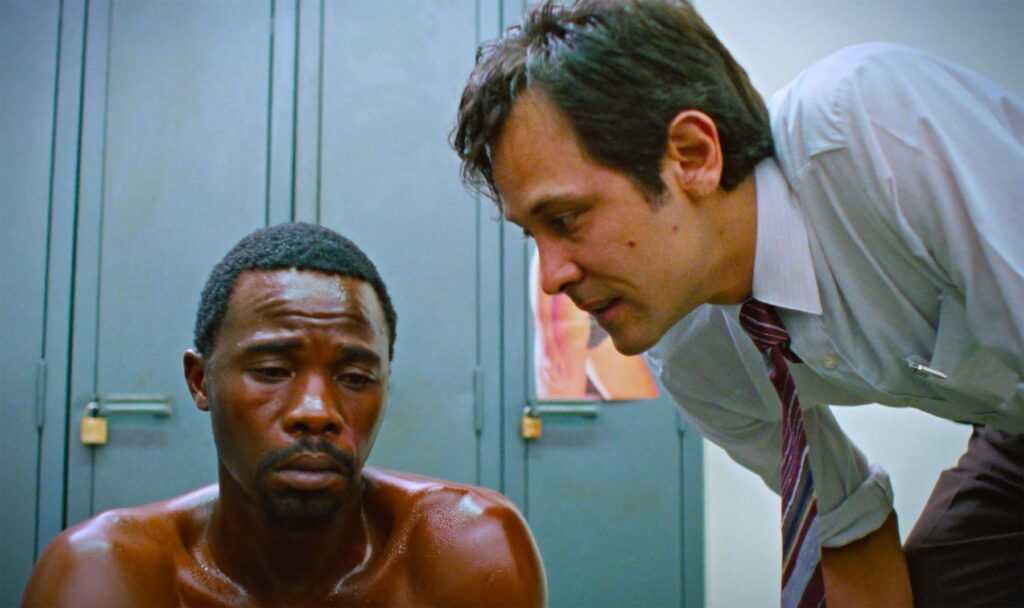 The Injustices of Soweto
Mapantsula, co-written by Oliver Schmitz and Thomas Mogotlane, is a 104-minute long dramatic film that criticizes the policy of institutionalized racism in South Africa. 35 years after its release in 1988, the film is being restored in 4K, making it have its world premiere at the Berlin Film Festival this year.
We are in the midst of apartheid in the 1980s. Black South Africans are thrown into prison for illegal assembly and incitement to riot. Among these detainees – men, women, and children – is Thomas Mogotlane, featured in the role of Panic, a pickpocket. He has no idea what the police have in store for him until he experiences intimidation and torture during his interrogations.
Indeed, director Oliver Schmitz begins the story with the imprisonment of the protagonist and uses the flashback technique to rewind the thread. On one side, we discover Panic with his rather trendy look for his time, wide-brimmed hat, fur-lined shirt, cigarette, leading an outlaw's life to survive, while his girlfriend Pat works decently at Joyce's. On the other side, we see the struggles of black people facing the abuses of apartheid in Soweto, despite the violation of their right to freedom of protest. It will take a twist of fate for Panic to get caught in a general raid that occurred during a political demonstration. From then on, he must decide the fate of Duma, a defender of the Black cause, and his own fate.
This is the first anti-apartheid feature film made by South Africans. It is a committed narrative that brings together a multi-ethnic people united by the same history. This is undoubtedly the reason for the diversity of languages in the film. Also, its beautiful aerial shots allow us to discover the face of South Africa in the 1980s, especially Soweto, with its population density, discotheque, fashion, and architecture.
As a reminder, when it was released on October 20, 1988, Max Montocchio's production was screened in the "Un certain Regard" section at the Cannes Film Festival of the same year. At the 62nd Academy Awards, it was also nominated in the category of "Best Foreign Language Film."
Durban International Film Festival
Catch the 44th edition of the Durban International Film Festival (DIFF), presented by the Centre for Creative Arts at the University of Kwazulu-Natal between 20 Jul 2023 – Sun, 30 Jul 2023
For more information visit: https://ccadiff.ukzn.ac.za
Author
This story emanates from the Talent Press, an initiative of Talents Durban in collaboration with the Durban FilmMart. The views of this article reflect the opinions of the film critic Gaël Hounkpatin.